"He ali`i ka `aina, He kauwa ke kanaka" ("The land is a chief; man is its servant")*
The earth can survive without man but man cannot survive without the earth.
*`Ōlelo No`eau: Hawaiian Proverbs and Poetical Sayings, Collected, Translated and Annotated by Mary Kawena Pukui. Bishop Museum Press, 1983.
We continue to carry on our cultural traditions relating to the oceans, including la`au lapa`au (ocean and land plant medicines and health care), traditional resource management (i.e., sustainable cultivation and harvest of ocean plants and animals), raising awareness through education on the traditions of the ocean mammals, their role in Hawaiian culture, society, and continuing to practice and conduct ceremonies for the Palaoa and their ultimate survival. We are dedicated to raising awareness and support for the protection of the ocean and for restoring the abundance of life in the world's oceans. We are working to increase awareness of traditional Hawaiian resource management models and sustainable ocean cultivation and we specifically endeavor to inspire a deeper understanding of human interdependence and connection with the natural environment and all its life forms. We believe in raising the standard of Aloha globally, in using creativity and innovation to promote and empower other local, national and international groups working towards ocean conservation.
Kai Palaoa founder (Kealoha Pisciotta) and Ms. Roxanne Kapuaimohalaikalani Stewart worked as volunteers with the Hilo Marine Mammal Response Network (HMMRN) and the Dolphin Rehabilitation Center, providing cultural training, including protocol for providing care and comfort to Palaoa (cetaceans) that become stranded, injured and/or placed in a rehabilitation facility for eventual release back into the wild. See Roxy and Kealoha helping Kamaui (a rare Blainville's Beaked Whale) and read more about the HMMRN Volunteers at the Dolphin Rehabilitation Facility in the Hawaiian Airlines Hana Hou magazine article titled "Saving Kanaloa" by Ms. Janice Crowl.
NOAA closed the Dolphin Rehabilitation Center in 2010, but that closure didn't end Roxy and Kealoha's responsibility to these creatures. In 2014, when community members alerted them to the presence of a distressed Kanaloa in Kawaihae Harbor, they rushed to her side, providing care and comfort to her while she transitioned and protecting her from predators after her passing until she could be safely returned to her ocean home in a pono, ceremonial way.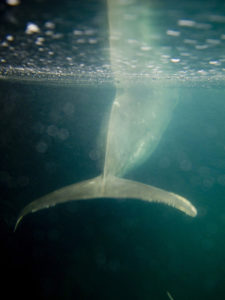 A rare Blainville's Beaked Whale was found stranded in Kihei, Maui on August 16, 2010 and was in rehabilitation at the marine mammal rescue facility for 2 weeks before he passed away. NOAA NMFS permit number 932-1905.